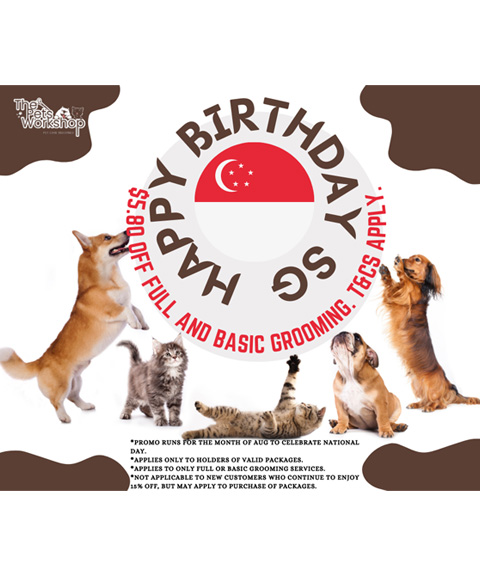 Celebrate Singapore's National Day with Pet Pampering Extravaganza!
Attention all pet parents and fur-baby enthusiasts! This August, as our beloved Lion City marks its 58th birthday, we are thrilled to join the festivities by offering an exciting and heartwarming promotion that will make your pets feel like the true royalty they are. Drumroll, please! Introducing our exclusive National Day Pet Grooming Extravaganza!
A Purr-fect Celebration for Your Furry Companions
At The Pets Workshop, we believe that every pet deserves to be pampered, and what better time to shower them with love and care than during the month of August, month of Singapore's birthday? As we celebrate the nation's growth, unity, and resilience, let's take a moment to appreciate the unconditional love and loyalty our pets bring to our lives.
Get $5.80 Off on Full or Basic Pet Grooming Services
Now, let's talk about the real treat for you and your furry friends. During this special month, we are offering an incredible $5.80 discount on both our full and basic pet grooming services. It's our way of paying tribute to the 58 fantastic years that Singapore has brought us, and we couldn't be more excited to share this joy with you and your pets.
Your Pet's Experience at The Pets Workshop
We know how much your pets mean to you, and their well-being is our top priority. Our team of professional pet stylists is trained to perfection, ensuring that your fur babies receive the love, care, and attention they deserve during their grooming sessions.
Full Grooming Services
Treat your pets to the ultimate makeover with our Full Grooming services! From luxurious baths using pet-friendly products to fabulous fur trims, our expert groomers will have your furry friends looking like the true paw-darlings they are. Looking good for National Day (or even the entire month) has never been so stress-free. With three locations (2 in Tampines and 1 in Nex shopping mall), we have you and your furbabies covered!
Basic Grooming Services
For those who prefer a quick touch-up and clean-up, our Basic Grooming services are just what you need! Your pets will enjoy a thorough brushing, nail trimming, and ear cleaning to keep them looking and feeling their best.
Terms and Conditions Apply
As with any good promotion, there are a few things to keep in mind:
This promotion is valid for the month of August 2023 only.
The $5.80 discount applies to both Full and Basic Grooming services.
The promotion applies only to holders of valid packages at time of check out.
Not applicable to new customers, who continue to enjoy our standing 15% first time customer discount, but if you like our services and would like to purchase our package, the $5.80 discount is applicable to your purchase of the package!
Availability is limited, so don't wait too long to book your appointment!
A Celebration of Love and Care
Join us in celebrating Singapore's 58th National Day by showing some extra love and care to your adorable pets. Our National Day Pet Grooming Extravaganza is the purr-fect opportunity to pamper your furry companions and let them know they're cherished members of the family.
Book your appointment today at The Pets Workshop and let the tail-wagging and purring festivities begin! We can't wait to welcome you and your pets for a memorable grooming experience. Happy National Day, Singapore!