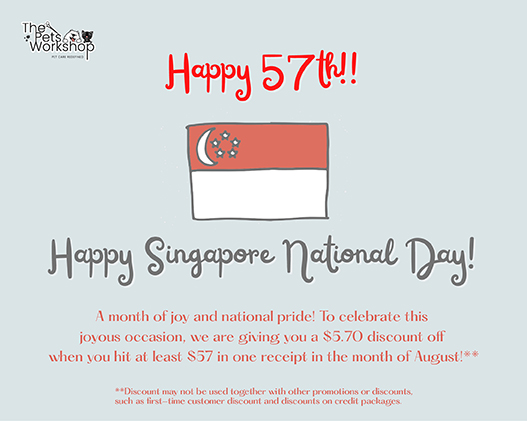 National Day Promotions!
With National Day just round the corner, we hope everyone is excited to hear the roar of jets flying overhead preparing for NDP, and seeing the sea of red, white, crescents and stars flying in the breeze! There is just something different, something even more positive about the 57th birthday this year, and we want to share that joyous mood around!
In the month of August, we will be rolling out a special National Day promotion! Spend at least $57 on a single receipt and we will deduct $5.70 off! No magic there! It is all about 5 and 7!! Majulah Singapura!!
*Discount may not be used with other ongoing promotions maintained by The Pets Workshop, including first time customer discount and discount rates applicable to credit packages purchases. T&Cs apply.